Back To Our Services
Repairing Posts of All Types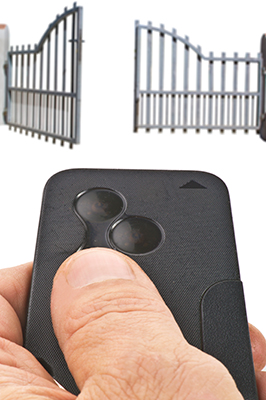 The posts are major structural components of both swing and sliding gate systems. Even the smallest issues may cause the gate to malfunction or to stop working altogether. Our job is to solve all kinds of problems reliably and quickly. If you have a damaged wood or steel post, we'll restore its previous condition or replace it in case it is beyond repair. What about a leaning post? Count on us to readjust it accurately and to secure it in place. This is also the solution in case you have a post that happens to be sinking. We'll use extra reinforcement to keep it in place, if required.
Fixing and Replacing Wheels
The wheels enable the movement of sliding gates during opening and closing. They are made of heavy-duty galvanized steel and tend to last for a long time. Still, if you have a twisted wheel, we'll repair it or replace it, depending on the size of the damage. Rusty wheels are easy to clean, but if there's any corrosion, replacement is the only effective solution. In order to provide gate repair services of the highest quality, we use only strong and durable spare parts. Rest assured that we'll deal with issues related to the wheels too. If your track is bent, for example, we'll have it straightened.
Gate Repair Services for All Electronic Components
If you have trouble closing your gate and there is no sign of damage to the hardware, you may have faulty safety sensors. In case our check confirms the problem, we'll replace them with new ones in the shortest possible time. Count on us to fix malfunctioning clickers too. If you've lost your remote control, we'll give you a new one and program it for you so that you can start using it conveniently right away. Our company provides intercom repair services too. Whether the issue is with the transmitter or receiver, you can expect a quick and effective solution.
Having an urgent or ongoing problem with your automatic gate? We, at "Garage Door Repair Orting", are here to help you out. Call us now.
Back To Our Services